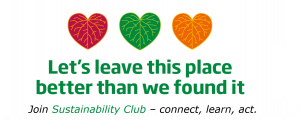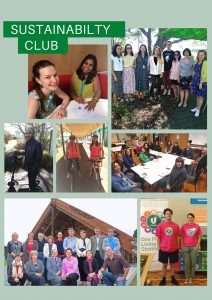 Unitec's Sustainability Club brings together like-minded students and staff to action small but significant changes across our two campuses. The club is engaged in a wide range of activities with varying levels of involvement depending on members' available time and capacity. 
Sustainability, at its core is about learning to view and relate to the world differently. This involves developing our ability to see connections between previously siloed issues, causes and agendas.  Unitec's Sustainability Club is where you can come to see this in action. Club activities intersect and support Unitec's wider sustainability goals in areas such as wellbeing, transport, waste management, food and strategy.   
Getting involved can mean anything from contributing to a big project such as the carpooling app Uniwaka,  to helping organise a clothing swap or support initiatives such as the Ugly Mug reusable Cup Library. 
Some club members take wider action, lobbying on behalf of causes they believe in, others help by gathering and sharing useful information. A few of the many and varied club projects were paused in 2021 due to the lockdown, while other events and actions continued in an online capacity. 
Transport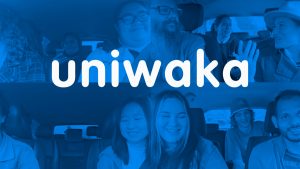 Carpooling is a great way of commuting more sustainably while using our city's existing infrastructure. Uniwaka is a carpooling app developed by an inter-departmental team for use by Unitec staff and students. This project is a key part of Unitec's Transport Plan and is also supported by Auckland Transport. Testing of the prototype was due to start in August 2021 but was paused until the return to campus.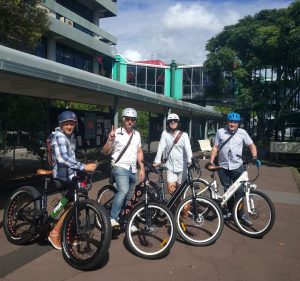 Cycling at Unitec is encouraged by the Sustainability Club with a range of activities, including Bike challenge events, a permanent fleet of staff e-bikes for borrowing, the introduction of a wet gear storage cupboard in B110, and the installation of the secure and free charging stations – Locky Docks bike locks.  
Waste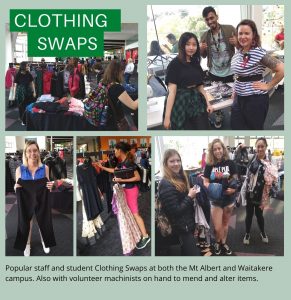 Clothing swaps, craft and bee-wraps workshops are examples of events held online and on campus to inspire staff and students in sustainable living and share relevant skills.
A repeat of the hugely successful Clothing Swap event has been rescheduled for the first semester of 2022.  
Waste Management Audits generate valuable data and highlight where improvements can be made. Are you bothered by waste or excited about recycling? Did you know that there is a battery collection service available in the same places on campus where you can drop off print cartridges? 
In conjunction with these and other initiatives, the Sustainability team is planning to conduct a 2022 Waste Audit of the 4-bin waste sorting system 
The push towards Zero Waste requires Unitec-wide action. Email connect@unitec.ac.nz  for more on the next Unitec Waste Audit and to register your interest in being involved. 
Food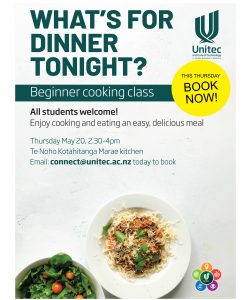 Cooking Workshops for Beginners support students to gain life skills, reduce food waste and make better food choices.  We held a very successful cooking workshop for beginner students at Puukenga with a second Waitakere campus event cancelled due to lockdown. We hope to resume this workshop series in 2022. 
Get in touch connect@unitec.ac.nz to schedule a cooking workshop for your team or your students get in touch through 
Strategy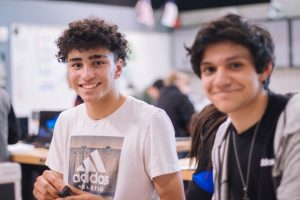 Te Pūkenga – New Zealand Institute of Skills and Technology is the vocational education provider in New Zealand. The Sustainability Club actively contributes to the development of Te Pukenga strategy. See here for more. In November 2021, together with EIT and Te Pukenga sustainability leads, we ran series of online and informal 'Show and tell' huis. These huis created the space for ITPs and TITOs to share information with each other and inspire a closer collaboration across our networks. Recordings of each session can be accessed via a Teams channel.  Email mzidov@unitec.ac.nz to hear what other ITO and ITPs are doing in the sustainability space. 
Government Consultations provide an opportunity to contribute to discussions at the national level. We operate as an informal think tank when responding to Ministry for the Environment calls for submissions 
For anything else you feel passionate about in the sustainability space and would like action on in 2022, please email connect@unitec.ac.nz to let us know! 
Email the Sustainability and Wellbeing team directly at connect@unitec.ac.nz  
Find out more here: Get involved 
To get in touch with the team, please email connect@unitec.ac.nz