Unitec's Sustainability achievements 
 
Unitec's journey from environmentalism to sustainability 
Key milestones over the last decade
Unitec has a long-standing commitment to sustainability.  In the 1990s Unitec initiated a substantial campaign to embed principles of Environmental Sustainability throughout its teaching and learning. This involved several academic programmes in environmental engineering, environmental science, and organic horticulture, as well as number of research programmes. However, by 2005 key staff had departed Unitec and several programmes were halted due to low enrolments.  
In 2010, environmental sustainability once again became one of Unitec's strategic priorities. A project team representative of all business units and a specialist environmental consultant was commissioned to work on developing a Unitec Environmental Sustainability Strategy (ESS). The five-year strategy aimed to embed sustainability at the core of Unitec's four major areas of operation: Teaching, Research, Advocacy, and Campus operation (T.R.A.C) and included a business case for appointing a full time Environmental Sustainability Manager.  
2011 – 2015 Focus on the basics
The Environmental Sustainability manager worked with the Sustainability Committee and Eco Reps to build a visible culture of campus sustainability. A waste-management system was established, cleaning and planting days were organised, and cycling racks installed. The collaborative work across these initiatives won numerous awards. 

 

In 2012, Unitec's Chief Executive signed up to the Commitment to the United Nations Sustainable Practices of Higher Education Institutions. 

 

In 2013, e

nvironmental literacy was added to the curriculum and a qualifications review highlighted current sustainability teaching practices and the development opportunities.

 

 

In 2014, an environmental data monitoring system was activated across the campuses and by 2015, implementation of efficient resource use practices led to operational savings of over $NZ1 million. 

 
See here how our sustainability data has been tracking since 2014

2016 – 2018 Big vision, big changes 
In 2016, a new five year Unitec Sustainability strategy was launched. Developed alongside the new Transformation strategy, Unitec adopted 10 One Planet Living Principles as a sustainability framework. The vision was for Unitec to redevelop its Mt Albert campus into a smart and sustainable city with an education quarter at the heart.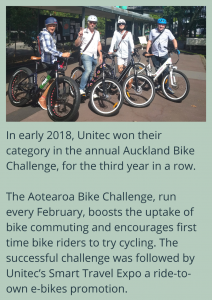 Nearly half a million dollars was to be invested in sustainability demonstration projects to enable teaching and research with a strong focus on renewable energy and sustainable transport. Unitec's One Planet Strategy also established carbon and waste targets to support the Auckland Council's commitments. 
In 2017 a lot was achieved. Unitec became the first tertiary institute in New Zealand to be CarboNZero certified, both by purchasing Carbon Credits and through new initiatives
 to reduce waste and energy use. Examples include the opening of new, efficient trades and student hub buildings, the carbon-neutral Copy Centre printing services, the introduction of bin-less office spaces,  an improved waste management system including new food waste bins, and increased water bottle refilling stations.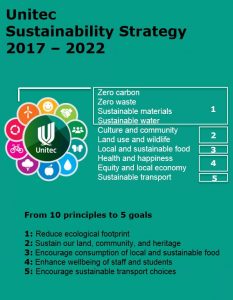 However, due to larger organisational issues, most of the One Planet strategy initiatives did not gain organisation-wide awareness or engagement. In addition: 
a vacant Environmental Sustainability Manager role was updated to a Sustainability Manager role, expanding the action scope. 

 

Impetus was lost in both the Sustainability Committee and Eco Reps groups due to the sustainability manager role being vacant for 6 months and high staff and student turnover rates due to graduation cycles and organisational change

 
Reigniting engagement required a new approach as the organisational context had changed. Annual engagement surveys for staff and students highlighted declining morale and high discontent with leadership and the transformation strategy.  
In 2018, two other factors impacted on Unitec's sustainability approach.   
The government intervened to manage the institute's poor financial performance, bringing in a commissioner and an interim CEO.

 

The government's subsequent Reform of Vocational Education (RoVE) proposal laid the foundations for large-scale change within the ITP sector, and the proposed future formation of one national institute.

 
Given the turbulent times, there was a need to tackle wellbeing, but with careful financial management. Unitec had a Wellness programme in place, and that year's annual staff survey revealed that many felt it wasn't addressing key issues affecting staff and causing stress. A new approach was required, taking a wider perspective. 
In 2018, social sustainability became the key focus. Work done by sustainability managers over the previous seven years had focused predominantly on environmental sustainability, through setting up Unitec's cycling, carpooling, waste management, energy monitoring and environmental reporting systems. Effective utilisation of these systems requires focus on its users, so the social sustainability focus endeavoured to build on this valuable work already done. 
2018 – 2021 Turning challenges into opportunities
Sustainability initiatives over this time included: 
Waste reduction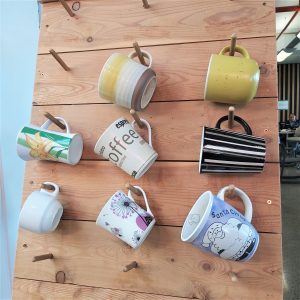 Cup library – developed by staff and supported by students to reduce the use of single use coffee cups 

 

Composting

– a student-led project to create a 4-bin system enabling the collection of food waste on campus for use in composting

 

Office supplies – collection points on campus for collecting office supply waste, including batteries  

 

Recycling week activations 

Clothing swaps – joint staff and student events across both the Mt Albert and Waitakere enabling the redistribution of unwanted clothing and accessories. One event included having volunteer machinists on hand to mend and modify people's clothing.  

 
Sustainable Food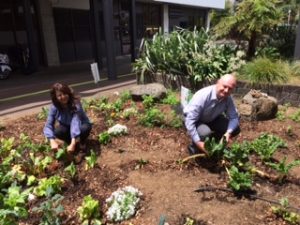 Shared vegetable garden

–

maintained weekly by volunteer staff to weed, water, plant and answer people's gardening questions.  

 

A series of food events to celebrate cultural diversity and to showcase zero waste and sustainable food practices. This included an international cook up day, Diwali and Moon festival events.  

 
Travel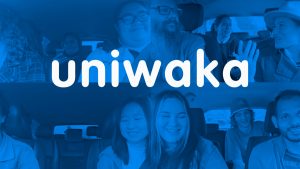 A speed-dating style carpool matching event 

 

The development of the Uniwaka carpooling app prototype 

 

Student travel survey in partnership with Auckland Transport  

 
 Sustainability club activities 2018 
Moving from a weak to a strong approach to sustainability required a new action plan. Operating in a complex situation such as Unitec was facing nevertheless provided a great opportunity to upgrade the organisational understanding of sustainability.   
Lessons for the year showed that sustainability is about: 
more than just trees and bees – it is also about people 

developing skills for thinking in terms of systems and interdependencies 

 
The new action slogan became 'taking care of our people and our place' featuring activities good for both human and environmental health, integrating travel plan initiatives and active modes of transport.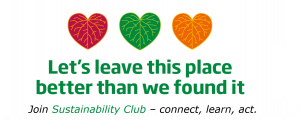 Staff Wellbeing Programme 
In 2018 an organisational-wide survey was conducted by Unitec's Sustainability and Health and Safety teams. Survey findings were used to significantly improve Unitec's Wellbeing Programme. This led to a programme with the following positive features: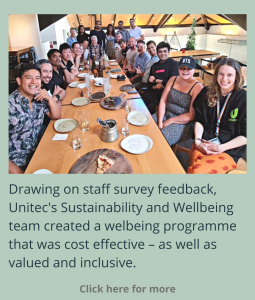 largely run by staff 

 

a wide range of activities on offer, including meditation, yoga, te reo Māori, facilitated team-building sessions, hula dancing, TED talks, sustainability working bees and workshops, badminton, group cycle rides, shared gardening sessions

 

cost-effective and engaging: 4,000 staff participants in 2019 – up a third from 2016 on a quarter of the 2016 budget

 

increased focus on psychosocial safety, including the collective development of a new Code of Conduct 

 

engagement of 24.4% staff in a voluntary, one-day training programme in partner with ReThink team addressing biases and stigma associated with mental health

 

people management workshops and change resilience programme with nearly 120 staff attending resilience workshops and training staff to develop a peer-to-peer support network

 
Financial sustainability goals underpinned by community development approach empowered innovation and collaboration

 

Sustainability strategy updated to include the newly developed Wellbeing strategy 

 

Kaitiaki-Taiao role created to embed Mataanga Maori into infrastructure operations 

 

Campus consolidation led to 22% carbon footprint reduction

 

In partnership with H&S team, staff led wellness programme integrates initiatives for both people and planet health

 
In 2018, Unitec's Sustainability and Wellbeing team showed how it's possible to create a valued, inclusive and cost-effective programme. Read more about this highly successful programme here
2019 Annual report
Maja Zidov, Unitec's Sustainability and Wellbeing Manager, says these reports have also enabled Unitec to dramatically reduce its carbon footprint – which has dropped 600,000 kg in the past year. Restrictions on air travel applied throughout 2019 also had a positive impact. "Now, Unitec's carbon footprint is on track for a 30% reduction by 2030, as measured from the 2014 baseline." Building closures also prompted the infrastructure team to complete a stocktake of all furniture, either in storage or not being used. This helped them make better use of existing stock, rather than ordering new items, and they sold and donated furniture that was no longer needed. In addition, some buildings have been rejuvenated and repurposed on the Mt Albert campus to enable students to be closer to the student hub, Te Puna, and Te Noho Kotahitanga Marae. A new Te Puna experience for students is also being developed at the Waitākere campus, again making the most of existing space 
 The first year of Manaakitia te Rito implementation lead to 22% reduction of the carbon footprint reduction. Financial sustainability objective of consolidating the campus was the key contributing factor. In 2020, carbon footprint was further reduced by a third. This is due to COVID-19 significantly decreasing Unitec's consumption of:  
 

Air Travel    92% reduction

 

Paper           63% reduction

 

Fuel               57% reduction

 
Unitec was on track to achieve our 30% carbon footprint reduction by 2030, as measured from the 2014 baseline. This is due to a combination of factors such as restrictions on air travel, building moves and ongoing savings due to the previous year's improvements. 
 In 2020, Unitec's water footprint was 65% less than in 2019. In addition to campus consolidation and COVID-19 related campus closures, contributing factors were:
Remedial works on large historic leaks

Installation of new equipment with lower consumption.

 
2020 annual report
Click here for our full sustainability strategy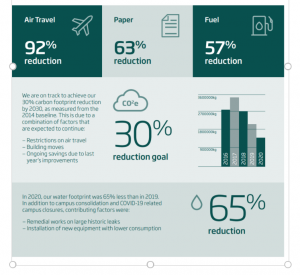 Notable achievements include the following: 
Sustainability Club – We have been maintaining a staff and student engagement group focusing on practical and strategic sustainability issues. 
Improvements in access to sustainable transport options, through the promotion of remote meetings to minimise the need for staff travel, the installation of bike racks and introduction of a staff bike fleet. The promotion of green transport options in collaboration with Auckland Transport (AT) including: public transport, shuttles, fuel efficient driving, car-pooling, e-learning and working from home. Providing quality facilities to encourage sustainable commuting options – e.g. showers, lockers, drying rooms, bike lock ups. 
 2019 – 2021 
 Partnering across organisation to support each others efforts and grow participation numbers  
Supporting all events across Unitec to showcase sustainability

 

 
See here for more current and future sustainability activities  
If there is an issue of sustainability you're passionate about and would like to see being actioned, please be in touch.  
Email the Sustainability and Wellbeing team directly at connect@unitec.ac.nz  
Find out more here.  Get involved 
To get in touch with the team, please email connect@unitec.ac.nz